Certification
Rachel Montgomery is an FSPCA Lead Instructor (Human Food Certificate # 32c592bd, Animal Food Certificate # 1bd2c691, Foreign Supplier Verification Programs Certificate # f3830814) with over 30 years experience as a food safety executive in large-scale manufacturing. Montgomery is the Principal of Simple Compliance Solutions, LLC and a Registered Microbiologist (National Registry of Certified Microbiologists).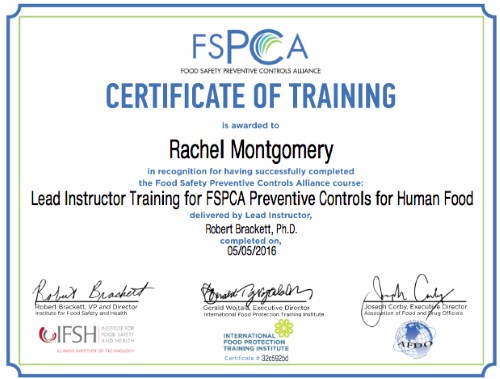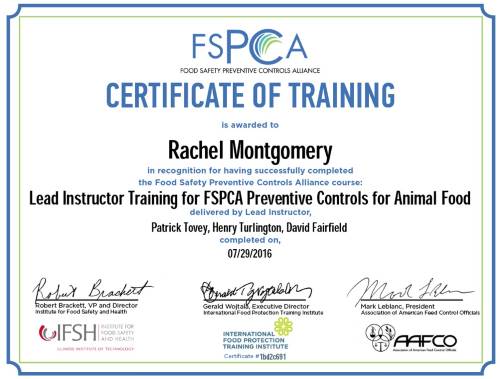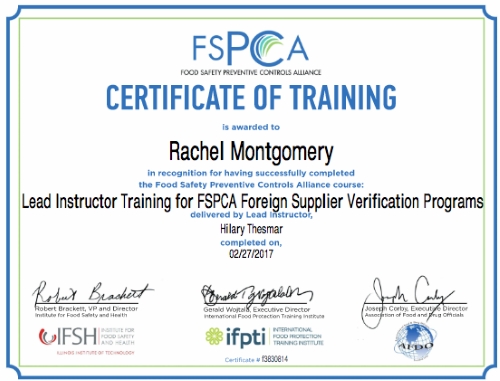 Background



Personable and articulate with hands-on experience and effective corporate and manufacturing-site leadership in FDA regulated industry, due to experience in positions from Vice President of Regulatory Affairs to bench microbiologist.
Skilled and effective in
Delivering essentials and impact of regulations to executive management as well as operations and floor level personnel.
Presenting to regulatory officials, customers, suppliers, and other third parties.
Providing instruction to cross-functional teams, at corporate and at manufacturing sites within the US and internationally.

Testimonials
"I chose this particular virtual course because the time slot made it easy to take from Norway, with no additional costs for travel accommodation. Moreover, having classmates from all over the world sharing in their experience, as well as the instructor's vast knowledge and experience, made it very interesting.
I will recommend this course to others because comprehensive information was provided by Rachel Montgomery, a great instructor. She presented the content in multiple ways, to keep us interactive and well focused, and an added benefit was her calling to attention specific portions of the manual so that we can use effectively as good reference material."
Anna, Quality Engineer
MarinPet, Norway
(PCAF Participant June, 2018)
"I recently attended the FSMA / FSPCA Preventive Controls for Human Food course that was conducted by Rachel and was absolutely thrilled with the learning experience I had. Rachel is very knowledgeable and really cares about this topic where she had over 30 plus years of real world experience in food safety. Apart from the course, Rachel even took some time to research into particular areas that I was interested in and provided her guidance that were greatly beneficial to me.  In combination of her passion, experience, knowledge and ability to actively engage the students,  I have no doubt that she is probably one of the best instructors to learn this course from!"
Waihong Leong, Senior Engineer
Kimberly-Clark Corp
"Personable, engaging, smart, and prepared, Rachel is perfectly qualified to train, mentor, and inspire our colleagues working to ensure food safety. Her in-depth knowledge of current regulatory requirements and expertise in implementing quality management standards have been important in the nutritional supplements business for many years."
Kristine Crawford, Senior Chemist
Pharmaceutics International, Inc.
"After working with Rachel for years in the enzyme/food manufacturing business, she is highly qualified for this subject. She truly cares about food safety and dedicated a large portion of her work career to food safety, processing and microbiology and protecting the companies she worked for in FDA matters."
Ronnie Dennis, Technical Coordinator
DSM Life Sciences
Testimonials from the anonymous FSPCA evaluation form:
Site-based FSVP


"The instructor had a wealth of knowledge and conveyed the topics with ease."

"The instructor delivered the course information very efficiently."

"Rachel's use of examples made the course more effective."
Site-based FCAF (including comments from private sessions)

"Ongoing dialog within the group and with Rachel made it a valuable the course. Rachel brings significant experience/credibility."

"In-depth knowledge from instructor, hands-on activities was very helpful."

"We had great examples from a friendly instructor."
"Rachel did a great job and was very knowledgeable and professional."
"Instructor was very knowledgeable, knew material well, led good discussions."
"Really enjoyed the training, presentation was terrific, A+"
"Instructor was very.""The instructor' knowledge of the industry was very helpful."
"This was at the right level of detail for our class and our process/facility.""Instructor knowledge, discussion of examples to clarify the regulations."
Site-based FCHF (including comments from private sessions for company teams)

"Having as cross functional training in our facility led to the other departments now seeing what the quality group has to do."
"Training a cross functional team at our facility gave us understanding of other departments examples and was very beneficial."
"Break-out sessions included our company's actual situations."
"How it impacts my work through using examples in exercises."
"Instructor very knowledgeable of subject matter and presented well."
On-line Virtual 2-day FSVP, 2.5 day PCAF, and 8-hour Part 2 of Blended Course (including comments from private sessions for company teams)

"Examples used and class discussion was valuable."
"At first I did not want to do a virtual class, but I actually really enjoyed it and felt like it was a real classroom experience where I was able to interact with other participants and the instructor on lots of examples."
"Instructor-led Part 2 with questions, clarifications, and interpretations was perfect."
"The knowledge and the wide industrial experience of Rachel helped a lot in explaining the concepts. She is very passionate about food safety. Rachel made a complicated subject easily manageable by focusing on key points and sharing examples."
"The instructors explanations were essential for me to fully understand all the subtleties."
"Instructor has great knowledge of industry practices."
"Thanks again for doing such a great job with the course. I think you make 12 hours fly by….even on a dry topic!"
"I had thought the virtual course would be a challenge, but the instructor did a good job of obtaining participation."
"Having our plant and quality managers from different sites linked virtually at the same time was very beneficial."
"All the back and forth conversation with the instructor and other participants was very helpful in learning the material."